Gone But Not Forgotten

Jarracada Colliet

"Cindy"

Sire: Ch Kasenga Kisengani (Jasper) x Dam: Ch Etosha Nandisa



This is Cindy on the day we brought her home, with our daughter Kerrie. Cindy is 12 weeks old here. Cindy was our foundation bitch. She lived to 13 ½ years old and was a wonderful companion. It all started with this lovely dog. We took her to her first show when she was 9 months old, encouraged by a friend to do so, and on that day she won the Challenge...from then on we were hooked. Unfortunately we didn't title her as she was rarely shown, due to children and lots of other commitments at the time.
Here she is with Kerrie again, watching the lurecoursing at a Pet Expo. Her favourite things in life were her family, eating and lure coursing. It was always embarrassing when we turned up for lure coursing, as Cindy would howl with excitement from the time we arrived, until we left. A trait that was passed on to her kids and grandkids.
---
Ch Dinizulu Barklyana
"Sarah"
Sire: Ch Kipsigis Choka (Choka) x Dam: Ch Jarracada Colliet (Cindy)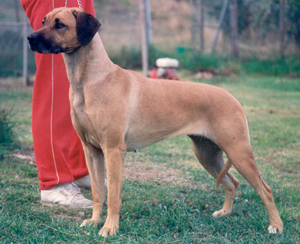 This is Sarah about 18 months old. She was a lovely dog, she was known for her beautiful front and smooth, effortless movement.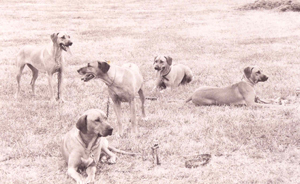 "Sarah & kids at lurecoursing - Binti (back), Kushinda (front), Sarah, Holly & Ivy"
Sarah was very agile and also loved to chase the lure. Sarah, Kushinda and Binti would work as a team when chasing the lure, they were a treat to watch.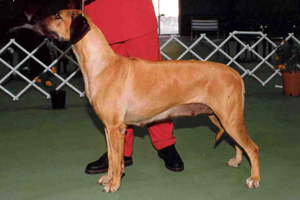 Here she is with Kerrie at the RRCV National 1996

Sarah was Kerrie's dog, together they made a great team in the ring. Sarah lived life full on and even when she was in her senior years she still took some slowing down. She was a great character, and could be very naughty at times, being very sneaky when it came to food and waiting for the right moment to thieve something tasty off the kitchen bench (something she inherited from her mother). She loved to teach us a lesson if we went out without her, often coming home to a little 'destruction' in our absence.
Sarah produced some lovely progeny and just loved to mother puppies (anyones puppies!).
---
Ch Dinizulu Bakeri
"Rocky"
Sire: Ch Kipsigis Choka (Choka) x Dam: Ch Jarracada Colliet (Cindy)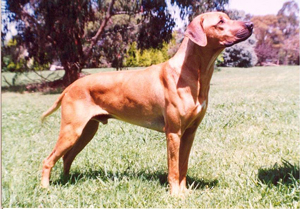 Rocky 18 months old
Rocky was Sarah's brother, he was our son Glenn's dog. Rocky did well in the ring, as did his sister, Sarah, winning multiple group and in show awards. He was titled quite easily at 17 months of age. Rocky was an affectionate dog with a lovely temperament. He wasn't as naughty as his sister, he always portrayed the sweet innocent boy that would do no wrong.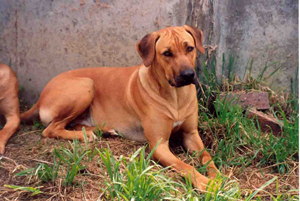 Here is Rocky at 4 years of age. He was a very pretty boy and took more after his mum in looks.
---